Bristol City Leap is thrilled to share details of its partnership with Future Leap.
Future Leap gives organisations the space, knowledge, contacts, and tools to accelerate their sustainability journey and progress toward net zero. The team has been working with Bristol City Leap colleagues for several years now, building a fantastic partnership. This collaboration is a great fit given their shared ambition towards accelerating the city's transition to net zero.
Bristol City Leap is an innovative partnership between Bristol City Council and Ameresco that will accelerate green energy investment in Bristol and help towards decarbonising the whole city by 2030.
Bristol City Leap will bring in over £1bn of investment to rapidly increase the scale and pace of investment in low-carbon energy infrastructure such as wind energy, solar energy, low-carbon heat networks as well as other energy efficiency measures and smart energy systems.
During the first five years of the twenty-year partnership, there will be an investment of at least £424m in a range of large infrastructure projects to reduce Bristol's carbon footprint by 140,000 tonnes.
The Partnership has included the following:
Future Leap has collaborated with colleagues throughout the procurement process of Bristol City Leap, keeping its network of businesses informed about the progress made.
To achieve this, they regularly hosted events focused on the city's decarbonization progress, inviting key players to share their insights and answer questions.
So far, Future Leap has successfully organized seven Bristol decarbonization events, with 526 members of the community attending. These events will continue to be held regularly, ensuring that everyone can contribute to the city's sustainable trajectory.
Bristol City Leap has been a crucial supporter of Future Leap's Festival of Sustainable Business, sponsoring important components of the conference (such as the Biodiversity seminar), the exhibition (the Just Transition Stage), and the awards dinner (as the Dinner Sponsor).
Last week's Bristol City Leap launch was organized by Future Leap's event management team, ensuring that sustainability was at the core of the facilitation. The launch was attended by 130 representatives from community groups, business, academia, government and more.
In April and May, the Future Leap events team will conduct a series of community roadshows to ensure inclusivity on the city's decarbonization journey.
Bristol City Leap and Future Leap colleagues will continue to meet quarterly to support each other in their shared mission of accelerating decarbonization and sustainable business practices.
James Sterling, Communications and Engagement Manager for Bristol City Leap said "Strong partnerships will be key to Bristol's success in reaching carbon neutrality by 2030 and it is clear that Bristol City Leap and Future Leap are fully aligned (not just in the name!) in our shared dedication to building inclusive, green growth. Organisations like Future Leap have an important role to play in creating networks like-intended organisations that can drive decarbonisation forward, but also in sharing news and success stories that inspire us all to take action on the climate."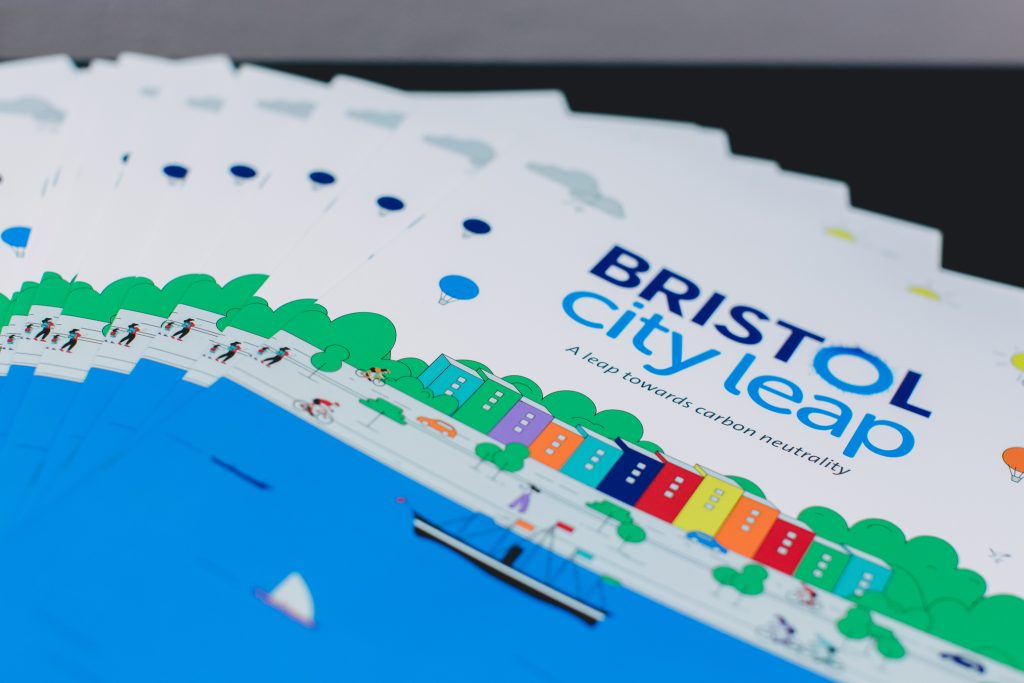 Katherine Piper, Future Leap's Director of Partnerships and Sustainability commented "We are delighted to partner with Bristol City Leap, working together to ensure that our community of organisations are fully involved in the changes we will see as a city. It is important to us that all organisations can play a part in this green transition, and we look forward to continuing to support our business community."
To join any of the roadshow events make sure to follow these links.
25 April 2023 – Lawrence Weston Community Centre: https://lnkd.in/efSQvYCk
03 May 2023 – St Paul's Learning Centre: https://lnkd.in/eNNS9Rnh
12 May 2023 – Lockleaze Hub: https://lnkd.in/es5gAp2c
19 May 2023 – Southmead Community Centre: https://lnkd.in/eb46t_mF
22 May 2023 – Heart of BS13 – Roundhouse: https://lnkd.in/eG_2PZNY